Clever Internet .NET Suite v 7.8
Version 7.8 (May 27, 2013), What's new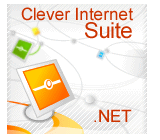 The suite of the Clever Internet components presents the most efficient and convenient way of accessing the Internet resources from your applications.
Using the Clever Internet .NET Suite you can add instant SSL / TLS security to your Internet applications and implement many useful Internet-related features:
downloading, uploading and submitting of the Internet-resources; sending and receiving MIME messages; HTTP, FTP, SMTP, POP3, IMAP and NNTP client / server solutions; SSL / TLS channel with digital certificates support.
The suite includes more than 40 components which are written in 100% managed code.

 
Available editions:
Clever Internet .NET Suite | Clever Internet Suite VCL | Clever Internet ActiveX Suite
Features at a glance:
Support for HTTP, FTP, WebDAV, SMTP, POP, IMAP, NNTP, SOAP and many more,
Client and Server components with SSL / TLS support,
Data compression while retrieving data,
Easy creation of the mail messages in any formats. Combining and submitting the Web Form POST requests,
Royalty free licensing. Free Unlimited Email support,
Fully-indexed help documentation. C#, VB.NET and ASP.NET demos code.
Component list:
Here is the comprehensive list of Components included in the Clever Internet Suite package.
Is source available?
When Purchasing the Clever Internet Suite you receive the full sources for all suite components and also free unlimited support.
Interested?