Multipart Multithreaded Downloading
The Clever Internet Suite allows you to download a web resource in more than 1 thread simultaneousely.
Use the Multi Downloader component to implement Mutlipart Multithreaded downloading in your application.
This allows you dramatically speed up your Internet downloads and get many advanced downloading features such as resuming and recursive website downloading.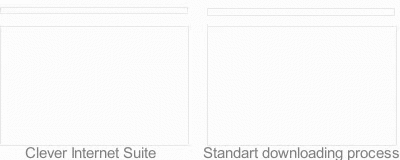 Animated image above shows on the left side how Clever Internet Suite downloads internet resource using 5 threads, and on the right side standard downloading process displayed.
This key technology is used by all popular download managers - Mass Downloader, ReGet, FlashGet, GetRight and others but from now you can archive same high results just by using the Clever Internet Suite components.
Interested?